5 Star Review for Unscrupulous by Avery Aster
I'm a series junky. Always have been, always will be. I'm kinda crazy and usually collect the entire series before I get started reading, that way I can just go from Book 1, to 2, to 3…and so on. I don't like to wait! I also REFUSE to read a series out of order. But with Unscrupulous, I broke ALL my series rules. Not only did I read it first (its Book 2), but I also read it without collecting the rest of the stories first. I'll go with…Avery stalked and bullied me into reading it, hehe! But goodness, am I glad she did!!!
Although it is TECHNICALLY book 2 in her Manhattanites Series, it's actually a prequel to her first release, Undressed. I haven't read Undressed yet, but it is def topping my TBR!
At thirty-three Warner Truman is one of the richest men on the planet, a spa mogul who buys and sells resorts at will. He holds powerful executive's careers in his well-groomed hands. Nothing is beyond Warner's reach…until he meets her.
Stunning, tantalizing, and perverse, Taddy Brill captivates Warner's carnal desire like no woman he's ever met. A self-made millionaire, Taddy is tougher than steel, more brilliant than diamonds and, at twenty-seven, she's never depended on a man for anything…until she meets him.
The more Taddy plays with Warner's affections, driving him to erotic heights, the more she is confronted by a dark past. But before she can love him, Taddy must meet her worst fears head-on or risk losing it all, including herself.
Every spare second I had the past couple of days, between getting settled back in from my trip to Paris and Naughty Mafia in Vegas, to school shopping for my kiddos, I have been up this book's BOOTY! There are parts that were so hysterical, or so HOT, that I immediately had to make quote pics for them. Usually I just wait and use the ones I remember after I finish, but oh no, not this time! Ms. Aster does a fantastic job of building up the story. She tells a tale of a woman who is fiercely independent, never asks for help from anyone, but would do ANYTHING for the people she cares about. At first we see her as this larger than life, statuesque, won't take shit from ANYONE, and confident woman. But when she meets "Garner", we see a fragile, sweet, and even vulnerable side no one would even guess she possesses.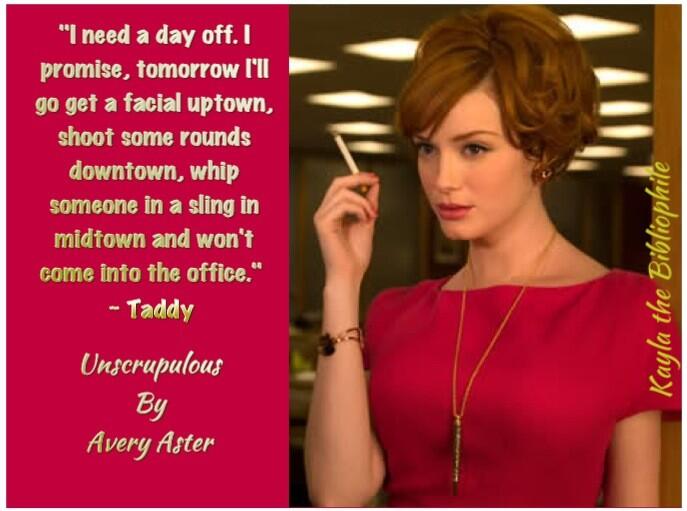 We learn so much about Taddy and her likes and dislikes during the first many chapters, that when we move to Warner's POV, some of the coincidences give you chills! My favorite one, without giving anything away, was when Taddy is thinking she wished her butler would "prepare crepes, eggs benedict or lemon poppy seed pancakes." And then later on, this happens: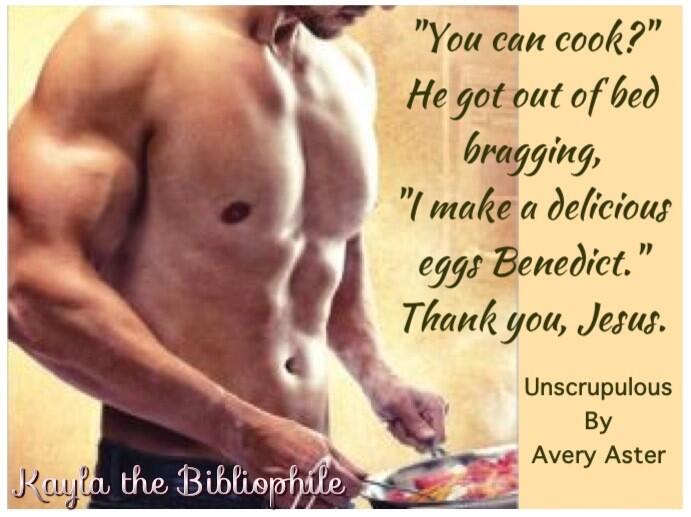 From their intense first encounter you are rooting for their chemistry to grow into something magical and lasting. You want nothing more than for this couple to love each other unconditionally and let it heal each of their….effed up…pasts.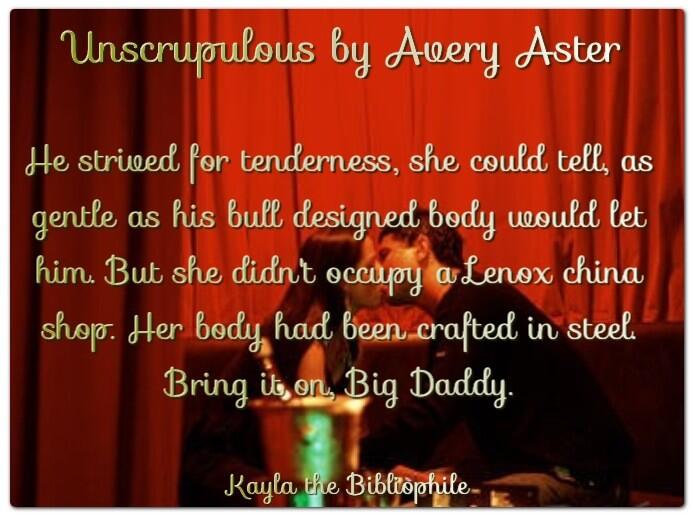 So if you are looking for an EROTIC Romance (Avery almost whipped me for calling it NA on the Twitter Machine) that will not only melt your panties, but also your heart,
Unscrupulous is the book for you. <3
Stalk Avery Aster:
Like MY Facebook Page
HERE!
a Rafflecopter giveaway