One-night stands are supposed to be with someone convenient, or wickedly persuasive, or regrettable. They aren't supposed to be with someone like him.

But after a crazy Vegas weekend celebrating her college graduation—and terrified of the future path she knows is a cop-out—Mia Holland makes the wildest decision of her life: follow Ansel Guillaume—her sweet, filthy fling—to France for the summer and just…play.

When feelings begin to develop behind the provocative roles they take on, and their temporary masquerade adventures begin to feel real, Mia will have to decide if she belongs in the life she left because it was all wrong, or in the strange new one that seems worlds away
Review
With my crazy schedule of being a stay-at-home mom/ editor/ blogger/ evening office manager at a gymnastics academy...OH~ and don't forget my poor hubby...I've had to give up on trying to start series' that have been out for a while and a few books deep, since I have no time to play catch up. When I saw Christina Lauren was introducing a brand new series, I jumped at the opportunity to finally ready these gals, having heard so many great things about the Beautiful Bastard series. I now understand what all the hype was about these ladies, and it makes me want to run away for a week so I can hole up in a hotel somewhere and read all their other books! But alas, it probably wouldn't go over too well to abandon my husband and kids, no matter how great I know the books would be, going off of how AMAZEBALLS Sweet Filthy Boy was!
As always, I LOVE a book that has badass besties. The exchanges between a heroine and her girls are some of my favorite parts in a story, where you get to see the real personality of your main character...
This book had it all, from laugh out loud humor...
blazing hot love scenes...
an all-consuming romance...
a life-changing happily ever after...
and best of all, the heroine was a fellow member of
the Itty Bitty Titty Commitee...
Okay, so maybe that wasn't the BEST part, but it sure was fun for me, since every story I've ever read has never paid homage to the small-tittied girls, such as myself :-D
I truly loved this book, and I can't wait for book 2 to find out what happens with Ansel and Mia's best friends.
Buy Links:
Kayla the Bibliophile Interviews Christina Lauren: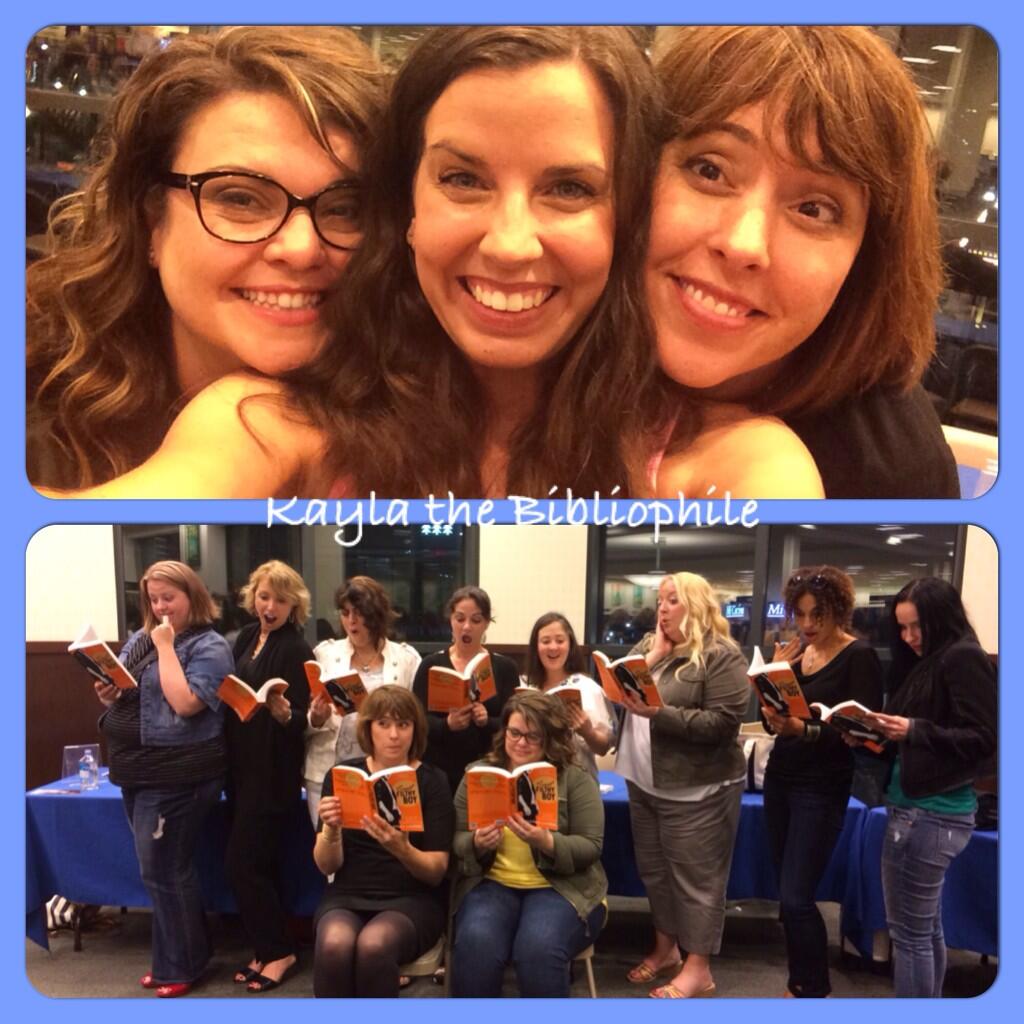 Lauren of Christina Lauren Edition
Let's start with a little foreplay…
What would you say is the most embarrassing thing you have done or had done to you?
When I was fifteen, I was traveling in Europe with a youth symphony. I had a major crush on one of the guys in the group, and when we stopped in a little town in Austria for a restroom break, I got off the bus while he stayed on, walked up to a souvenir shop to browse, and tripped on the stairs, knocking an entire 8-foot rack of cowbell key chains onto the cobblestone street. It was probably the loudest thing I've ever heard, and there was not a single person in this tiny town that didn't come out of their shop to see what had happened.
We like to think of them as readers, and the best/craziest moment happens every single time we go to a signing and are reminded that there are people out there, actually reading these books.
Favorite book and/or author?
Wally Lamb – I know This Much is True
Jandy Nelson – The Sky is Everywhere
I drive an import, but always love a purring muscle car.
Favorite song and/or musician?
Can't possibly pick one, but The Pixies will always be on my playlist.
White, Dark or Milk Chocolate?
Commando, Boxers or Briefs?
Whatever he's comfortable wearing; it's his body.
Damon or Stephan Salvatore?
Biker boy or Rocker dude?
If by biker you mean mountain biker, then I already married him.
Do you believe in vampires?
As in, they're a real thing? Nope.
If you could have a super power what power would you pick?
What would you do with your super power if you had it?
Would you abuse your super power? How?
I guess, in that I would get more done every day than anyone else in the world mwah ha ha ha
What would you do if you could be a guy for a day?
I'm pretty sure we all know the answer to that.
J
How would you describe yourself so that someone could pick you out?
What's the last thought in your head that involved someone you like?
I'm so incredibly lucky to work with this person.
What is a question you want me to ask you?
What is a question you refuse to answer?
All of the personal ones about my sex life.
Any tats or piercings? If so, where?
Two wrist tats, a few piercings.
Minor: less vs. fewer slip-ups
Major: Inability to forgive.
What did you think while reading these questions?